Tom Dreesen has been in show business for 50 years. Along the way, Tom has made over 500 appearances on national television as a
stand-up comedian
, including more than 60 appearances on The Tonight Show. He was one of David Letterman's favorite guests and frequently hosted the show in Letterman's absence. He also appeared countless times in Las Vegas, Tahoe, Reno, and Atlantic City with artists like Smokey Robinson, Liza Minnelli, and Sammy Davis, Jr. And, for 13 years, he toured the nation as the opening act for Frank Sinatra. A career like this is rich in stories, and no one tells them better than Tom does.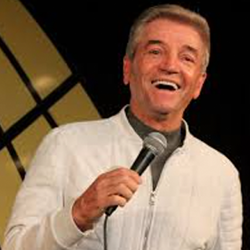 Stand-Up Comedy
Reviews on Stand-Up Comedy
"He is cool, contemporary, and topical. You can tell by his expert pacing that he is sure of himself and his material."

"Dreesen's ability to fit his observations into streams of conscious laugh getting is the mark of a thorough pro. Tom is one of the most respected family comedians of our time."

"If there is a kind of secret to Tom's outstanding comedic genius, it might be that we laugh so hilariously at his outpouring that he's on to a new subject while we're still reeling at the old. It takes a true student of comedy to keep an audience at such a high peak of mirth."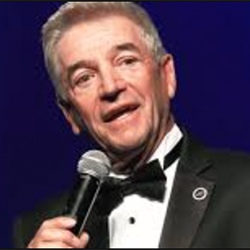 Master of Ceremonies
Reviews on Master of Ceremonies


"As a Master of Ceremonies and Comedian you keep the program moving every year with your wit and wisdom, and you make it look effortless. Bravo."

"Tom is money in the bank. Any show he's on, you can always count on him to deliver. He's a seasoned pro."

"Barbara joins me in expressing our profound appreciation to you as Master of Ceremonies of our gala. You are the master... Master of Ceremonies."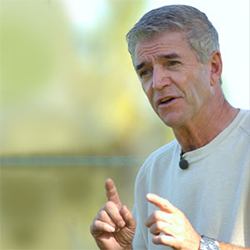 Motivational
Reviews on Motivational Speaking
The Man Who Made Sinatra Laugh
Tom Dreesen is performing his one-man show, "The Man Who Made Sinatra Laugh," throughout the country and via live stream, and he's receiving rave reviews from coast to coast. Please click on the links below to get a sneak peek.
To book Tom Dreesen for an event, live stream, or even one-on one in your home. Click on the "Book Tom Now" button.
Upcoming Appearances and Events
Comedy Club Appearances
California - 2023
The Man Who Made Sinatra Laugh
Private Event - Burbank, CA - February 28, 2023
The Man Who Made Sinatra Laugh
The Franklin Theater - Nashville, TN - June 8, 2023